Welcome to the best boot camps in town!
We want to meet you where you are at. Pick a tab that speaks to where you are!
We specialize in working with beginners. To help you get started, we use proper exercise progressions that match your fitness level. No need to wait to come in – come as you are! We provide you with a secure starting point where you will know you are in good hands.
Start achieving your goals, feeling healthy, and gaining confidence!  Come and join our community where you will never feel judged.  Although it can be scary to start up at a gym, we are here to help you feel comfortable with your new fitness routine and encourage you to stick with it.
We are glad you are here! It's time to commit to your workout routine! Our boot camp community and personal trainers will motivate and push you to be your best.
Boot camp gives you high energy workouts, five times a week! While we change up the workouts each day, the circuit structure remains the same in boot camps. Exercises are varied every day to challenge you, but the circuit structure remains the same for consistency.
(Insert evil laugh)  Whenever you are ready, we are ready to level you up. Whether it's pushing you to lift heavier weights, adding advanced modifications, or adding an athletic touch, we like pushing you to leave everything on the floor!
Our goal is to make you feel empowered and proud every time! You can easily reach your goals at this level! When you are ready, tell your instructor that you want to be challenged.
Boot Camp - More Than Just a Workout
An amazing total body workout, every class, guaranteed. 
Each class will challenge you differently with unique equipment like water rowers, battle ropes, spin bikes, steps, kettlebells, and more! We know that it can take a little bit of time to get comfortable with workouts or new moves. No worries here! In a smaller setting, and with the help of our personal trainers, you will be sure to gain confidence to take on our boot camps.  
Amp up your training with myzone! It's simple – seeing your progress helps. During class see exactly how much effort you are putting in so you can set personal goals during class. Myzone shows you color zones, mep points, and total calories burned. Stay accountable and keep track of your workout with the myzone app.
Our flexible classes are instructor-led, Monday through Thursday at 9:00 am, 4:15 pm, 5:15 pm, and 6:15 pm.   We also offer bonus classes on Saturdays at 9 am, followed by yoga at 10 am! Saturday classes are free, so please bring your friends!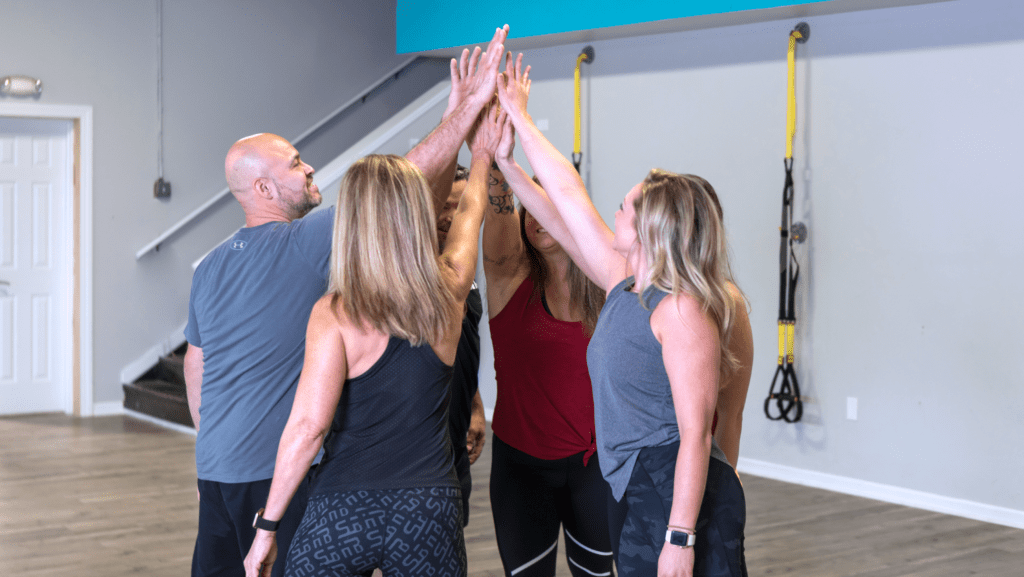 Our classes are programmed training!  We offer a total body workout daily, but each day focuses on different movements or groups of motions to ensure proper recovery on muscle groups. 
Here is what you can expect every class:
Warm-Up
Choose station of your choice.
Cardio, Legs, Upper Body, Core
Finisher
Stretch
Our community is the best part about our gym! Our staff is one of a kind and we promise that you will find supporters and friends. 
Being around like-minded people is a game changer for keeping you motivated, accountable, and excited to work out. Partner up with new people to help you push yourself and stay on track. 
We are all here for the same reason – to be our best healthy self. We promise, you'll gain more than just muscle! 
Fitness is not just about weight loss – it's about truly being happy in your own skin, finally taking care of yourself, and moving pain free! 
We all want to look and feel good, but we also don't want you to become frustrated with the scale. It's more important that you make healthy food choices, stay consistent with your training, and work on building lean muscle mass and strength instead of focusing on the number on the scale.  By using a body scanner, you can ensure that you are making the right changes for your body and not focusing on what you think is a perfect weight. You'll say things like my clothes are loose, I feel better, I'm doing exercises that I once didn't have the strength to do. These are some of the many non-scale victories that you will reach in our boot camps.
Lean muscle mass not only looks good, but it improves strength, posture, burns more calories, helps bones, reduces risks of falls and so much more. Gone are the days where cardio is the only way to look your best! 
We provide the best of both worlds in boot camp. We strength train while paring it with high intensity interval training. And if you are new, do not let the high intensity scare you. We always offer modifications that will still challenge you at your fitness level.
We know stretching is important! Stretching helps prevent injury and keeps your body moving pain free. We always incorporate a stretch routine into our boot camps as a cool-down, and offer yoga class on Saturday.

You've been taking care of others or have been focused on your career, and now you're here making yourself a priority. You need to refill your cup in order to maximize every aspect of your life.
Having a healthy, happy lifestyle requires a commitment to self-care.  Attending boot camp can keep those endorphins flowing!
Did you know that starting a workout routine will also help your sleep quality? Studies show that working out improves sleep quality, reduces stress and anxiety, sleep duration, and routine. 
"I will not let age change me, I will change the way I age."
Adding a consistent workout routine and healthy eating into your life can help you looking youthful, without the high cost of fillers and surgeries. Not to mention all the other benefits you receive from fitness. 
Monthly Boot Camp
Recurring (Cancel anytime)
Monday - Thursday 9:00 am, 4:30 pm 5:30 pm
Teacher Appreciation Boot Camp
1 time purchase
Monday - Thursday 9:00 am, 4:30 pm, 5:30 pm
4 Week Challenge
1 time purchase
Monday - Thursday 9:00 am, 4:30 pm, 5:30 pm